Ever wondered what it sounds like when you combine poems from the greatest Greek poets of the past and improvised sounds of bouzouki and baritone saxophone? The answer is here with the debut release of Dimos Palamidas called APHRODITE.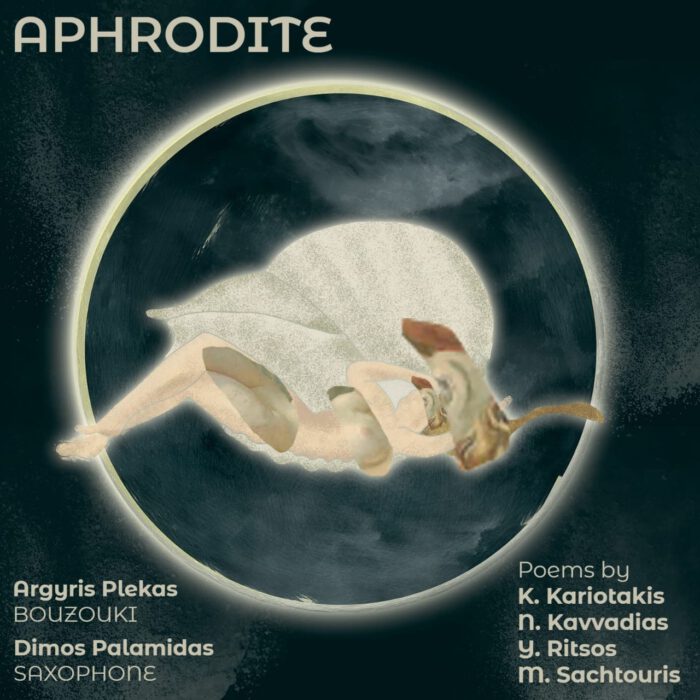 APHRODITE is a short but expressive project which started in early 2020 but needed to be postponed due to the pandemic. In these following months, Dimos finetuned the compositions and included the help of fellow musician Argyris Plekas on Bouzouki.
Dimos:
The goal of this project was to combine the following disciplines: Greek poetry, Composition, and Improvisation. I thoughtfully selected each poem which, in my opinion, are diamonds produced by some of the greatest Greek poets of the 20th century. Also, the instrumentation is unique in that there are very few, if any, instances of baritone saxophone collaborations with bouzouki. This gave us an immense opportunity to experiment and come up with unique compositions in a pure way.
For this record, we pursue an as natural as possible sounding record using stereo recording techniques. We pay extra attention to microphone placement, stereo image and aim for a record where, if possible, we only need the stereo pair in the mix. We wanted to translate the music as naturally as possible.
Dimos:
For me, it is important to convey meaning beyond words by creating impressions with the listener that may be traced back to a common axis, especially for those who don't speak the Greek language. The overall theme that links all poems together can be expressed with the following sentence: "The natural, female beauty contrasted with esoteric negative emotions, such as loss and grief".
With a well-prepared concept, you can make beautiful art and APHRODITE is a good example of that.
Personal:
Dimos Palamidas – Baritone Saxophone
Argyris Plekas – Bouzouki
Eirini Alisa – Narrator
Kostas Zisimopoulos – Narrator
Amparo Ballester – Narrator
Manthos Damigos – Narrator
Flery Vi – Narrator
Cees Oosterhuis – Recording & Mixing Engineer
Barend Spaan – Assistent Engineer